Talks and Lectures
If you're looking for a specialist lecture on an aspect of ballet's history, or an entertaining short presentation … yes, I can help!
I have created talks on ballet for a range of organisations and audiences, including undergraduate dance students, theatre history groups, the Rotary Club and other special interest communities.
If you have a specific occasion, audience or topic in mind, please get in touch. Where possible, I am happy to develop travel plans to accommodate your event, whether you are in Australia, the UK or another part of the world.
My researched and illustrated presentation on Astley's Amphitheatre and John Astley's dancing-on-horseback has been especially popular. It can be offered as short or longer (45-60 minutes) address.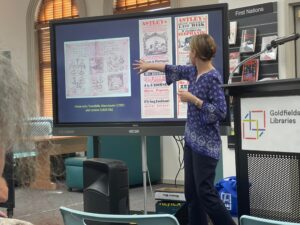 Public presentations (non-academic)
'Hoofing It! Ballet on Saddle and Stage at Astley's Circus,' Goldfields Library (Castlemaine), 9th February 2023.
'Turbans, Tulle and Taglioni's Influence on Fashion, 1830-1845,' The Museum at FIT (Fashion Institute of Technology), New York USA, 6 March 2020. Watch here.
'Ballet on Saddle and Stage at Astley's Circus,' dinner presentation for Castlemaine Rotary Club, 2 October 2019.
'Hoofing It! Ballet on Saddle and Stage at Astley's Circus,' Theatre Heritage Australia, Arts Centre Melbourne, 15 June, 2019.
'Ravishing! Dance in Belle Epoque Paris, 1885-1909,' Bastille Day French Festival, Meat Market, Melbourne, 14 July 2018.
'Sylphs and Spiders: The Balletic Entanglements of Lola Montez,' Castlemaine Historical Society, August 2017.
Lectures and conferences (selected, academic)
Guest lecturer for second-year students undertaking the subject 'Knowing Dance'. Content covering key developments in ballet pre-1850. Faculty of Fine Arts and Music (VCA & MCM), University of Melbourne, February 2023. 
'Pinning Down Cupid: The Anacreontic Ballet, 1790-1815', 25th Annual Oxford Dance Symposium, New College, Oxford, April 2023.
'"A Glorious Harem": Romanticism and Ballet in London, 1795-1825', Romantic Generations Conference, Romantic Studies Association of Australasia, December 2021.
'Hoofing it! Dance on Saddle and Stage at Astley's Amphitheatre, 1780-1800,' English and Theatre Studies Seminar, University of Melbourne, May 2017
'From Saddle to Stage: Ballet at Astley's Amphitheatre, 1780-1800,' 19th Annual Oxford Dance Symposium, New College, Oxford, March 2017
'Airy Delights: Ballet, Balloonmania and Celebrity in Late Eighteenth-Century London,' 16th Annual Oxford Dance Symposium, New College, Oxford, 2014
'Opera girls in English discourse, 1750-1789,' 14th Annual Oxford Dance Symposium, New College, Oxford, 2012