Now on YouTube: 'Turbans, Tulle and Taglioni's Influence on Fashion, 1830-45'
Amid elbow tap greetings and official advice to stay out of New York's subway, the Museum at FIT's Ballerina symposium went ahead, squeezed in just days ahead of coronavirus being formally declared a global pandemic. Before I say more, a special thank you to Patricia Mears, Tanya Melendez, and their colleagues at the Museum at FIT, who not only warmly welcomed me to their city, but came to the rescue a few days later when the escalating crisis compelled my early return to Australia.
For lovers of ballet and fashion who couldn't attend the symposium, FIT has made all the presentations available via the Museum's YouTube channel. There are terrific images and fascinating insights across all the papers (Theresa Ruth Howard's is a must-hear, examining the significant influence of African-American dance and dancers in Balanchine's choreographies). For those of you with a bent for nineteenth-century dance history, be sure to watch the presentations of Lynn Garafola (talking about Anna Pavlova) and Jane Pritchard, who has the keys to the vast theatre collections of the Victoria and Albert Museum, and illustrated her paper accordingly!
A couple of notes for anyone wanting to follow up on the Taglioni material in my own paper. Firstly, Patricia Mears located some excellent additional resources, including a plate showing one of the Taglioni corsets, which appear in her essay for the exhibition catalogue Ballerina: Fashion's Modern Muse (New York: Vendome Press, 2019). She also turned up an alternative version of the plate shown in my talk,"Newest Fashions for August 1830″. Intriguingly, the version she found (at the NYPL) is captioned "Newest Fashions for September 1830". I don't have a publication title for either plate, but the costume shown at right is confirmed as 'Italian' national dress on the NYPL copy – so definitely nothing to do with Taglioni.
And secondly, there was a little trouble with the 'clicker' to change slides during the morning session. The sharp-eyed might detect a slide that got missed. It wasn't essential, but if curiosity threatens to rob you of sleep…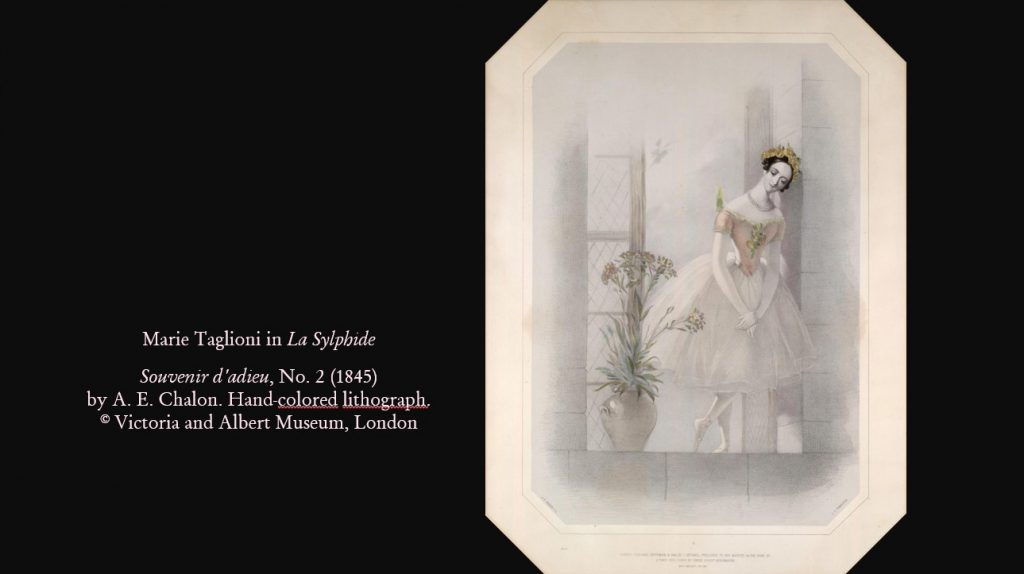 Lastly, though I don't mention it in the presentation: the final slide, showing the title page from the journal La Sylphide, depicts Taglioni not as the sylphide but as Flora from Flore et Zephyr (from 1831). The costume designs for the two ballets were very similar; consequently, prints based on the Flora illustration were widely reissued and tagged 'sylphide' instead. I learned this at the knees of good friends specialising in the field – thus, do I pass on their wisdom for others!
Summary of details for referencing the paper:
Author: Caitlyn Lehmann
Title of paper: 'Turbans, Tulle and Taglioni's Influence on Fashion, 1830-45'
Conference/Symposium title: Ballerina: Fashion's Modern Muse
Date and location: 6 March 2020, Museum at Fashion Institute of Technology, New York, NY.
URL: https://www.youtube.com/watch?v=Bq2g0UKxMfA
Enjoyed the talk? Let me know with a coffee!