"Barrygate!"
'Hellgate, Cripplegate and Newgate:
The Soubriquets of the 7th Earl of Barrymore and His Siblings,'
Notes & Queries (OUP, August 2021, or thereabouts…)
If you're a person inclined to curiosity, and I've no reason to imagine you are not—though it seems sometimes there is a dearth of such people about these days—you may be wondering why I wrote an article recently about a reprobate aristocrat so long musty in his grave than even the hungriest of worms have long since left off nibbling his remains. If you have NOT noticed that I wrote an article about the 7th Earl of Barrymore (1769-1793) and his siblings, then I suppose, really, you ought not be blamed. It was published electronically by Notes & Queries back in August (a journal of very ancient Oxfordian pedigree) but the print issue has been substantially delayed by Covid. Or something like that. It's no help to anyone when the current issue of the journal is sagely represented on the website of Oxford University Press (OUP) by the line "Remote destination is not reachable".
Anyway. The article, the fruits of a project affectionately filed under "Barrygate" on my laptop, was a summer essay borne of furrowed brows and much confusion associated with the re-write of Chapter 5 of my book-in-progress. Unlike my book, the word "ballet" does not appear once—no, not once!—in the article, which bears the abundantly utilitarian title: "Hellgate, Cripplegate and Newgate: The Soubriquets of the 7th Earl of Barrymore and His Siblings". Notes & Queries does something of a specialism in utilitarian titles, bringing forth such gems as "An Unnoticed Dryden Document at Lambeth Palace", "Bishop Percy's Account of His Own Education", "London Shop-Signs",  "Ape and Cock Taverns", and "Dispossessed Sovereigns: How to Address Them".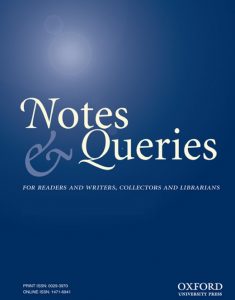 Anyway. What business does a ballet-preoccupied cultural historian have with writing articles that do not mention the word "ballet", you may ask? Ah, well, you see there IS a connection between ballet and Richard Barry, the seventh earl. It's just I had enough on my hands sorting out the matter of the nicknames misattributed to the earl and his brothers Henry and Augustus, without asking the dedicated dippers-in to Notes & Queries to read of his shenanigans at London's opera house as well. I'm not going to tell you about the brothers and their nicknames. OUP will not be pleased if I do—that, after all, is the very information that they expect me to deliver you by means of their services. Then again, nor am I going to tell you very much about Lord Barrymore's ballet connections either, because that is for my book to do, and I've neither the time nor the inclination to go into the matter here. Spoiler: no spoilers.
Anyway. I just wanted to reassure you that there is a ballet connection that made Lord Barrymore and his siblings persons of interest to me, and possibly to you too. And while I'm about it, I would also like to say to all the small-bit journalists, hack writers of popular history, Regency romance authors, the compilers of the Oxford Dictionary of National Biography, the person who whacked up the current text about Richard Barry on Wikipedia, the flummoxed cataloguer at the British Museum, and a chap named John Robert Robinson: "I'm sorry." I'm sorry you were confused about the Barry brothers' nicknames. I'm very sorry you got me confused about the Barry brothers' nicknames. But everything is going to be alright. I've sorted it all out.
Certainly, I've soured a lively historical yarn in the process, upset one or two aged raconteurs, set the editors of the ODNB rolling their eyes, and poured cold water on the "scorching sexual chemistry" of Sabrina Jefferies's 'The Hellions of Halstead Hall' series. Well, perhaps not on the sexual chemistry exactly, but if "Hellgate" has anything to do with her choice of "Hellions" then Sabrina may be looking at me now, very, very hard.
Anyway. That's all I wanted to say. Happy reading if you do decide to read the article. The Barry brothers will appreciate your interest. They were always inclined to be the attention-seeking type. Whatever the names one gave them.