Leftovers on eBay…
Hello everyone,
Just a quick post to advise that my remainder stock from the 'Court to Kitsch' exhibition is now available to purchase on eBay. Alternatively, you are welcome to order direct from me and pay via Paypal or my Kofi page (just send me a message via the Contact page and we'll work something out).
There are still a few sets of the 'Ballet Girls' notecards left (pictured above), which were very popular with visitors to the exhibition.
I also have plenty of the Mme Caroline greeting cards (selling as single cards or as a pack of 4), and a number of the Le Bal Pare cards available too. Personally, I particularly like the Le Bal Pare cards – perfect for birthdays, Christmas, saying thank you, and any occasion where a little elegant style is required!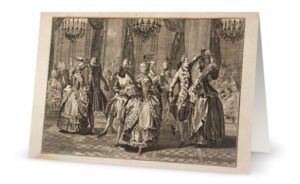 Both notecards and greeting cards are blank inside. See eBay for other specs.
Ballet Girl notecards – set of 4 designs
Mme Caroline greeting card – single
Mme Caroline greetings cards – pack of 4
Le Bal Pare greeting card – single
La Bal Pare greeting cards – pack of 4
The extra large postcards (15cm x 23cm) are still in plentiful supply too. Even if you don't intend to post them, they are great for sticking up on walls or using as alternatives to greeting cards. These aren't on eBay so just email if you're interested in a few of them. Afficionados always love the 'Mr Punch's Russian Ballet' card for working out which of the Diaghilev ballets it references! $1.00 each (or less if you buy 10+!)