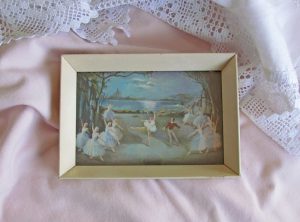 And Who is Carlotta?
It's a funny business, house-hunting. There I was, standing in the hallway of a perfect stranger's home. I should have been admiring the art-deco stuccowork, dissecting the designer kitchen. I should've been nervous about the grunt of semi-trailers hurtling past the door.
But instead, I was disappearing into a world of dainty ballerinas, posed in perpetual arabesques in misty scenes from the ballet classics. There was Les Sylphides in the hallway, Swan Lake in the master bedroom, Giselle in the living room with a glimpse of Balanchine's La Valse nearby. I imagine you've seen the pictures too, these little vignettes of powder puff femininity. They're leftovers of the great British ballet boom, reproduced en mass as postcards, jigsaws and greeting cards. There's even a mantle clock for the vintage connoisseur.
I like to think that these chocolate-box treasures were once every girl's answer to Uncle Charlie's Green Lady hanging in the sleepout. Today, they're the fodder of op-shops and ebay – and sold in sets for triple figures by the hawkers of shabby chic. Back in the '60s, it seems Australians and New Zealanders couldn't get enough of these pretty little showpieces. Small, medium and large, plain and silvered, the prints sold in their thousands. They brought sensual revelries and the mystery of moonlit glades into the lives of ordinary Aussies.
But there's a deeper mystery for the inquisitive collector. It's the conundrum of the commonplace, the story of the best-selling artist condemned to obscurity by her crimes against taste. Love them or loathe them (I sit somewhere in the middle), all these ballet prints are the work of one hand. She's there in the margins, a little flick of red paint. Edwards. C Edwards. The exotic Carlotta Edwards.
"Exotic", indeed, is how one relative remembered her. And exotic she seems, too, for having a most ambiguous personal history. Our artist, on her marriage certificate, is one Fernande Charlotte Felicitas Katharina Pourrier. It's not a name that immediately tallies with the story of a "young Russian woman" brought to England by a Welsh husband, as one owner of her paintings alleged.
Look up Carlotta online and every seller of her pictures has pasted in the same account: Carlotta, 'the daughter of the French painter, Ferdinand Pourrier'—except for that one seller who insisted on making him Francis Pouvier. An illustrious father? The lead sounds promising. Until you realise that Ferdinand Pourrier is even more obscure than his daughter.
We do know that Carlotta died in 1977. That, at least, had been confirmed, and former dancer Jennie Walton (a keen Carlotta enthusiast) accepts 1894 as the year of her birth. But what about the source that claimed Carlotta had "three generations of the theatre behind her"? And what about Carlotta's paintings of ballerinas like Margot Fonteyn and Alicia Markova, or the great Soviet ballerina Galina Ulanova? There must be dancers who remember her, surely?
Well actually, no. Jennie Walton, who has been photographing dancers since the 1960s, has proven beyond doubt that a number of Carlotta's pictures were painted using photos. "I was told Markova knew her," Jennie reports, "but I questioned a lot of mainly Royal Ballet dancers who were there in the '50s and '60s, and not one remembered her at rehearsal or in the studio." In fact, Jennie even suspects there is a painting by Carlotta based one of her photographs!
Carlotta, Jennie surmises, began painting ballet subjects relatively late in life. She studied art in London and was producing pictures by the 1930s. The earliest known exhibition of her work was held in a theatre club in 1947. Then, in the 1950s, Carlotta was taken on by the Medici Society, a British publishing firm that specialised in making art available to the wider public, "for the lowest price commercially possible". Carlotta's popularity took off.
Soon, the Birmingham-based Gwenda company was also dealing in Carlotta-ware. Her pictures of dancers adorned compacts and cigarette cases. Now, once again, Carlotta's appeal is on the rise as these retro balletic curios come back in vogue. Strange to say, the very secret of her success may be that she didn't always paint from real life. With their ethereal dancers and frothy tutus, Carlotta's ballet scenes distil the essence of what so many people believe ballet to be. They may be twentieth century, but there is not a whiff of the avant garde. Nor are the images complicated by an excess of male dancers with all the sexual suspicion they aroused at the time.
Carlotta's ballerinas are neither smiling nor grief-stricken. They display poise without passion, sincerity without sophistication. And wherever there is pink bed linen, a white dresser and a pile of motley cushions, there you will find them: dainty ballerinas frolicking on the walls – while outside the semi-trailers roll by.
With my thanks to Jennie Walton for generously sharing her research. If you know something more about Carlotta Edwards, do get in touch!


13 responses to "And who is Carlotta?"