Discovering and Rediscovering Anne Elder
Biographies of ballet dancers – and their ghostwritten autobiography counterparts – are not exactly a dime a dozen, but do make it to the bookshop shelves from time to time, often thanks to opportunistic marketing or special event commissions. There is, after all, no better moment for a publisher to hazard a foray into the niche world of ballet than when a dancer is basking in the warm glow of high-profile celebrity or the reflected light of topical happenings. Naturally, I tend to annoy said publishers because I rarely buy titles on first release. I'm one of those patient, prudential types who waits until last year's new release turns up looking lost and embarrassed on the remainder tables at a discount store. Or I'll wait until a copy turns up in need of rescue from a second-hand bookshop, at which point I gain the added pleasure of tsk-tsking the former owner for a desultory interest in dance and cavalier purchasing power.
By comparison with today, however, the mid-20th century was a boomtime for ballet biographies as two waves of balletomania saw publications released for overlapping generations of dance-lovers. From the 1930s onwards, a succession of retrospective accounts by former dancers and patrons associated with Diaghilev's Ballets Russes hit the shelves, sold side by side with photo-books and biographies for a younger generation of stars headed by Margot Fonteyn. My own bookshelf, for example, sees a 1950 reprint of Tamara Karsavina's Theatre Street (1930) and a 1960 Penguin paperback edition of Serge Grigoriev's The Diaghilev Ballet (1953) chatting about old times together just a few spines down from Rudolf Nureyev's ghosted Nureyev: An Autobiography (1962). To those, you can add my 1955 reprint of Arnold Haskell's Diaghileff (1935) and William Chappell's Fonteyn: Impressions of a Ballerina (1950), both of which are shuffling to get comfy after finding their way to me earlier this year. Chappell's reminiscences were an unlikely discovery in the midst of Spudfest in the Victorian township of Trentham. It is always "a very good day" when I return home with boot-load of fresh potatoes and yet another ballet book from an out-of-the-way second-hand dealer.
Some of these titles are, of course, also very well-known, like Karsavina's Theatre Street and Haskell's Diaghileff, which are key texts for their period. Others like Elaine Fifield's In My Shoes (1967) or Valentin Zeglovsky's Ballet Crusade (published in 1943 by niche avant-garde publishers Reed & Harris of Adelaide on an idiosyncratic mix of blue, tan and green paperstock) started sinking into obscurity almost as they were published. Yet, thank goodness they were published, because in the history business it's amazing how something desperately obscure can suddenly spring to life as a vital, argument-cementing source of historical evidence. Zeglovsky, who had been struggling to justify his shelf space, unexpectedly found his moment to play the raconteur again when I was researching ballet in Monte Carlo in May. Zeglovsky, it transpired, performed at Monte Carlo in the 1930s and earned something of a reputation as a gambler among his colleagues. He was rather a dab hand at losing his salary on the green baize, though that seems to have bothered him less than the prospect of a meagre supper of sandwiches served by the Prince of Monaco.
Which brings me, in a very roundabout manner, to the biography of another mid-20th century ballet dancer, Anne Elder, released by Lauranton Books in 2018. Elder, who danced under her maiden name Mackintosh, is not a figure that ballet-goers will likely recall, even in Australia where she danced as a soloist in the Borovansky Ballet from 1940-44. Born in New Zealand in 1918, Elder's major artistic contribution was in the field of literature, where she was highly regarded for her poetry and now gives her name to the prestigious Anne Elder Award for Australian poets. The biography by her niece Julia Hamer, The Heart's Ground, was released in conjunction with a new compilation of Elder's work titled The Bright and the Cold (2018), which is a showcase of Elder's ability to elevate the ephemeral and domestic into moving narratives that extend far beyond the few lines taken in the telling.
Elder's creative life is also a valuable reminder that artistry need never be limited to one sphere of practice despite our instinct to pigeonhole people according to their greatest achievements. For dancers, the end of their active life on stage is too often construed  as the end of everything, of all life's creativity and excitement. If you don't manage to go mad like Nijinsky or Spessivtseva, or make an exit in flames like Livry or Weber, then you're simply spoiling the otherwise grand and compact drama of a career in the limelight. Accounts of dancers who continued their creative careers in other fields are surprising rare considering that the creative impulse doubtless motivates to dancers to write, paint, act, sculpt, play and compose far more frequently than we acknowledge. Robert Helpmann is perhaps the best-known exception, celebrated both for his career in ballet and as an actor on stage and in film. Elder is a welcome and inspiring addition to the list.
Elder's life story is straightforward enough – in fact, her biography is rather padded out by an extended family history in its opening chapters. Her career as a dancer with the Borovansky Ballet eventually comes into focus in Chapter 9, contextualised by Hamer with the aid of Frank Salter's biography of Borovansky. Well and good, but the real gem is Elder's own account of her time with the company, which is published in the appendix titled "Borovansky: Strong Man, Sad Pierrot." I mention this because it's a rare and useful first-hand account of Borovansky and his company in a text that won't be an obvious go-to source for researchers interested in this period of Australian dance history.
As it transpires, Elder's ballet career was cut short by marriage, a not uncommon occurrence in the 1940s, but one that is often forgotten amid the glamor attached to those leading ballerinas who stayed in the game or delayed marriage until the latter stages of their careers. I was particularly struck by the account of the distress that giving up dancing caused for Elder. Hamer relates that it was only after Elder's poetry began to receive public recognition "that Anne could watch ballet without pain." It makes the story of Elder's creative breakout as a poet all the more inspirational, transforming her into a creative spirit who refused to be dulled by the mundaneness of love and domesticity, or deterred by the male-dominated literary establishment.
Well done to Lauranton Books and the members of Elder's family who supported the preparation of this biography and the companion edition of Edler's works. Poetry and ballet are equally niche subjects and it might have been all too easy for Elder's story to remain untold. Her biography isn't one that ballet lovers will immediately reach for, but Elder's account of dancing with Borovansky is precisely the kind of record that dance historians adore stumbling over, and it's an account that we will benefit from and enjoy rediscovering down the decades and centuries to come. Thank goodness for the marketing machines that commit the biographies of high-profile dancers to print; but thank goodness for the quiet achievers like Anne Elder, whose more modest and perhaps more typical stage careers have the chance to be recorded as well.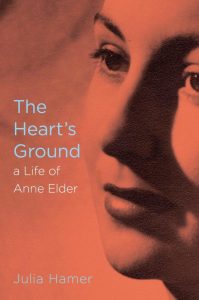 Julia Hamer, The Heart's Ground: A Life of Anne Elder
Gardenvale: Lauranton Books, 2018
ISBN 978 0 99425 073 5
The Bright and the Cold: Selected Poems of Anne Elder
Compiled by Catherine Elder
Gardenvale: Lauranton Books, 2018
ISBN 978 0 99425 074 2